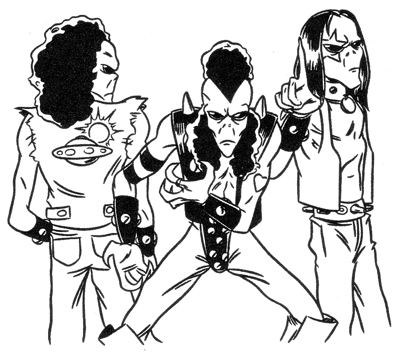 THE SEX PISTOLS GET ABDUCTED BY ALIENS
ABDUCTEE IN THE U.S.A !
Listen to the song at the bottom of this page.
Log In, or Create an Account for a free download of all of the alien songs and other exclusive content, at the Log In Form on the right of this page.
Then, click on "Exclusive Content" at the top.
{instantpaypal}{/instantpaypal}
Lyrics by Joe Tripician
LYRICS
(to the tune of The Sex Pistols' "Anarchy in the UK")

[take me... right...now...]

I am a devotee
of spirituality.
I read the tarot
I've seen UFOs
I want an alien to take me in tow
'Cause I wanna be an abductee.

[no gravity for me!]

An abductee society
Is coming for you -- wait and see.
Don't wanna defile or revile
We'd walk a million miles for The X-Files!
'Cause we-- we wanna be abductees.

[on TV!]

Many ways to join the club
I use a psychotropic shrub
I'm a pacifist and a humanist
I'm the alien's publicist!
'Cause I wanna be an abductee.
[I wanna meet ET!]

Is you an Alien Gray?
And is you going away?
Can I be a stowaway?
Or is this the CIA?
Or just another doomsday?

[another chance to fly away!]

I wanna be an abductee.
[It's the only way to be!]
And I wanna be an abductee.
[Please take me, please take me!]

Other Science Fiction Projects: